Some bad dreams of late, involving death: breathing in poison I'd laid down for the huge slugs infesting my room; being strangled on a shingle beach in the middle of the city. My subconscious can go to Hell.

A couple of days ago I was smoking on Corporation Street and I noticed a small crowd gathering. A bunch of (white) policemen clustered around a black Muslim guy and his young family. My hackles rise whenever I see coppers around POC. What little gist I could get was that his little boy had been either jostled or insulted by a passer-by and the dad had taken umbrage. He lifted up his mobile to film the officers while talking to the crowd, most of whom were white and amused-looking. Those smiles nauseated me. It doesn't seem a huge step from smirking rubberneckers to open abuse.

In more pleasant news, "This Spectacular Darkness" has sold well: half the print run gone in it first three days of release. It'll go to an e-book edition now. I'm currently re-reading James Agate's diaries and I picked up Scott and Willis' "Botanicum" for a snip a couple of days back. It's gorgeously illustrated, in the manner of an expensive Victorian natural history tome: I couldn't turn down any book that depicts Carboniferous-era plants under a bell jar.

The city skyline was beautiful in yesterday's twilight, as seen from a sloping road in the Black Country: watercolour washes of dove and slate, rooves and trees deepening to blue, the BT Tower lights like beacon fires. I think I've found the church of the nightbell I've mentioned in older entries: it's ten minutes' walk down the towpath, a narrow steeple with green shutters. Perhaps too narrow for the way that bell sounds, but it's at the right distance. I need to get down there at the right time to make sure...
I was writing the previous entry when the intercom rang. I went to answer - expecting a parcel and dreading the hoohah I'd had getting post back a few weeks ago - but it turned out to be some guy wondering if there were any Spanish-speaking people in the block. It was a short conversation.
Current Mood:

subdued

Current Music:

John Foxx and Louis Gordon, "Ultraviolet/Infrared"
This Spectacular Darkness
, a collection of Joel Lane's critical essays on horror and weird fiction, edited by Mark Valentine and John Howard. Many of the essays appeared in the journal
Wormwood
. Joel always intended to write a full-length study on modern horror; this isn't quite that book, but it does collect all of his essays.
I've had some involvement in the book. Back in the summer Mark and John approached me to contribute an essay on Joel's poetry, as part of an appreciation of his own canon to round off the collection. I accepted readily, but not without some qualms - I hadn't written essays since my college days and I didn't know if I could give the poems the analysis and respect they deserved. But I set to it, with encouragement from
cybermule
, and beta-reading from
sovay
and
gizmometer
- thank you all for your support. And thanks too to Mark and John for asking me to contribute in the first place. It's been one of the toughest things to write, but it appears in the book as
Where The Gods Are Rotting: the Poetry of Joel Lane.
I am very glad
TSD
is out there now. You can find more details and order the book
here.
As usual, I've been away too long. Some news this time: yesterday Tartarus Press released
Current Music:

Moon Wiring Club, "Churchyard Style"
Today and heard the news. Hoped I was having a nightmare, but we don't get to wake from this one. I wrote on Facebook: Another triumph for isolationist fuckwits. To all my American friends - you have my love and whatever support I can give. I wish I could offer you better. Look after yourselves, okay? Be safe. Fight the good fight if you feel you can; but don't give up. Please. <3
I have spent most of this day numb and cold with grief and quiet rage. I didn't think this could happen. Woke up at eight, switched on
Current Mood:

depressed

Current Music:

Broadcast, "According To No Plan"
I've just started Alan Garner's autobiographical/essay collection,
The Voice That Thunders
: one of many books
cybermule
lent me yesterday. Among the heap is a biography of the engraver and ornithologist Thomas Bewick and Ronald Hutton's study of pagan Britain. If I complain I'm bored over the next few weeks, feel free to mock me. There is a lovely oak on the common near her house, all hollowed and blackened by fire; the crows were coming into roost as we walked there, and the contrails had turned dark as grapes in the sunset; "old man's beard" seemed to thread every hedge: a West Country kudzu.
I saw John H last night after a quick curry with M and we talked a fair bit about Machen; I'd been rereading some AM over the last few days. (I had been pondering also restarting
A Flute In The Factories,
in the absence of new writing projects. There was a
major
stumbling block in that the story needs Pan in as a character with dialogue, and I couldn't for the life of me work out how to do it without it seeming shit. Until Thursday when I was waiting for the coach to Bristol and the solution just popped up. It's stunty but it could work.) We talked a lot about classic weird fic in general; and graphic novels; I discovered recently how many liberties the graphic
House on The Borderland
took with its source material and it enraged me. The night was brittle-cold when I walked back. November came and scattered sycamore keys all over the balcony.
I listened to a TED talk on R4 an hour back featuring - what do we call this, surely not the music of the spheres? - a few minutes on the radio waves generated by planets and stars. Jupiter sounded like the scratches in a well-loved record. I wish I was a sculptor; I suddenly had an idea for an orrery, each little world with a recording of its "song".
fade_2_black
at the Ikon Gallery Friday. There were three sculpture exhibitions on. Probably our favourite were the rooms set aside for the Lithuanian artist Zilvinas Kempinas. A loop of videotape, kept afloat by fans, somewhere between Mobius strip and and skipping rope; magnetised ball bearings moving in a black disc of oil (it reminded me of organisms growing in a Petri dish, but seen in negative); a room full of moons (or rough-painted plaster lit behind black screens). Sara Barker's exhibition was good too, sheets of painted glass and aluminium and torqued steel rods: I waved my hands about but couldn't get any theremin whoops out of them. I bought a copy of Rosie Garland's Victorian circus novel
The Palace of Curiosities
and a couple of postcards from the shop.
Yesterday I met up for lunch and beer with John H in Solihull. We stopped off in Oxfam Books before the pub and I remembered they had an old colour pamphlet on Coventry Cathedral I thought would interest him. We talked about airship crashes, Jocelyn Brooke, Laurel and Hardy, urban trees, amongst other things. It turns out John can do a mean Scooby-Doo impression! I wandered back to my parents. There was a package from Mark Valentine waiting for me. He'd very kindly offered to photocopy three of Joel's early stories. What I
wasn't
expecting was was the copy of
The Foggy, Foggy Dew
he'd put in. It's Joel's first chapbook, I think: a deceptively simple ghost story about dust and pianos and chessboards and a possible message from the other side. I might devote an entry to it some day. It was a cold evening (to me, anyway; we've reached that time of year when my hands turn violet indoors. Armwarmers from now on). I curled up in bed and read till the small hours, alternating between Kiernan (
To Charles Fort..
) and Bradbury (
The Small Assassin
). There was an owl keeping me company through the night.
I did a bit of art therapy with
Current Mood:

pretty good

Current Music:

Pumarosa, "Priestess"
why didn't she tell me which number? That's fishy. Went back out. This time she'd been joined by a few guys I half-recognised hanging around the block, scraggy-looking guys. This stocky little dog bounded over me. It didn't want to take a chunk out of my leg, at least. I called over So what flat did you say the package was in? She mumbled a name and number. I think I knew then I was being had, that they had the parcel. But it was one versus several. I made to go back in when one of the men said Here y'are mate, I opened it up. I didn't know it was yours. He hands back two boxes of mobile recharger cables (one of them open) and a book on airships. I doubt very much he would have got anything for them. I couldn't say anything. I just went back in. But I heard the guy say something about I want my twenty quid back. I needed to leave the flat a couple of hours later to go to writers' group, but I felt rattled at the point. Had to keep looking over the balcony to make sure they'd gone. On the way out I asked in at the local cornershop if this sort of thing had happened before. Turns out these people are chancers who live on the estate; petty crooks. They wouldn't be violent - I wasn't threatened in any way, but I found the situation intimidating - but they'd nick a charity collection box or a shopping bag if you turned your back. As the cornershop guy said, opportunists. I did laugh it off a bit later, but it unsettled me some. If the delivery man could have been arsed to wait thirty seconds, this wouldn't have happened. I don't know if he got one of that lot to sign for it, or simply handed it over. There's no place in the block to leave packages. Some days I find it difficult to leave the estate, even when I know a walk would do me good - times like that I make myself go out to get tobacco or teabags. The cornershop's the edge of the world. Incidents like this don't help much. I don't even feel like leaving the flat now, never mind the estate. Blegh.
So, I had a small misadventure yesterday waiting for M's parcels. I got a buzz from the flatblock intercom; the parcelman was waiting downstairs.Now, the intercom and the button for letting people in are unreliable, so I told him I'd physically let him in. Took me half a minute to find keys and trot downstairs; no sign of the guy. At all. There were two people waiting outside the block, as if they were waiting to get into a particlular flat. One told me the delivery guy had left the parcel with someone in the block. But not who or where. I went back up a minute, annoyed; then I thought
The Vorrh,
which is extraordinary, a kind of
Heart of Darkness
for the twenty-first century, I got a text from
fade_2_black
later than I should, but wandered out to meet her for the last hour at The Boat. The moon was bright enough to light the road, somewhat better than the streetlights: there are too many blind curves and wells of shadow on the way to Catney, and not nearly enough pavement. I slept a lot, dreamt that someone had done a botched TV series of
Furze,
made him look like a wizened creature by Brian Froud and stuck him in a country-house party waiting for something supernatural to happen. (It didn't.) This morning I saw a jay dart across the field behind my house, clay-pink chest and pied tail. I don't know how rare they are: they stick to tree cover if they can.
I spent this past week in the West Country with
cybermule
. The grapevine in her back garden has done well; we spent a lot of time eating home-made grape chutney. Spread it on on walnut bread: heaven! Friday we drove up into the Black Mountains. If you're ever in Abergavenny, check out Broadleaf Books - they're low on fiction but great on natural history, art and British history. H came away with a long essay by John Fowles on trees (I didn't dare try and get it for myself; there would have been a fight I couldn't win) and a Folio Society edition of Ruskin's
Stones of Venice.
I found a biography of Arthur Machen. Later we drove up into the hills. Dusk was closing in. There were sheep heads bobbing in the bracken. At the top we found a little wood, full of the witchiest, windwarped sessile oaks, straight out of
The White People.
Twilight was far gone there. H listened to the oaks using the breeze to gossip. No acorns on the ground - the sheep had taken them all. They were slow to get off the road when we drove back (the sheep, not the oaks). Sunday we met up with some of H's friends at the Lammastide pub, somewhere in the depths of Gloucestershire. There's a disused phone-box just up from there, colonised by ivy: whole swags of it had gotten through the windows. There was a sign inside announcing the box's imminent removal. That made me sad. I was sadder when I left H to get on the coach. It was a gold-green afternoonwhen we parted. Concrete seems to have crept into the light since then.
I'm practising what seems to be my own autumn ritual of recent years and reading Bradbury. Currently I'm on a raddled sixties paperback copy of
The October Country
(the subject line comes from the story
The Emissary
). Picked up a copy of CRK's
To Charles Fort With Love
for a fiver, so that comes next. Trying to put up a little wall of books between me and the lengthening nights....
I went back to my parents' yesterday and didn't do much more than read a huge chunk of Brian Catling's
Current Mood:

autumnal/alright

Current Music:

The Advisory Circle, "Ceridwen"
shadesong
at
post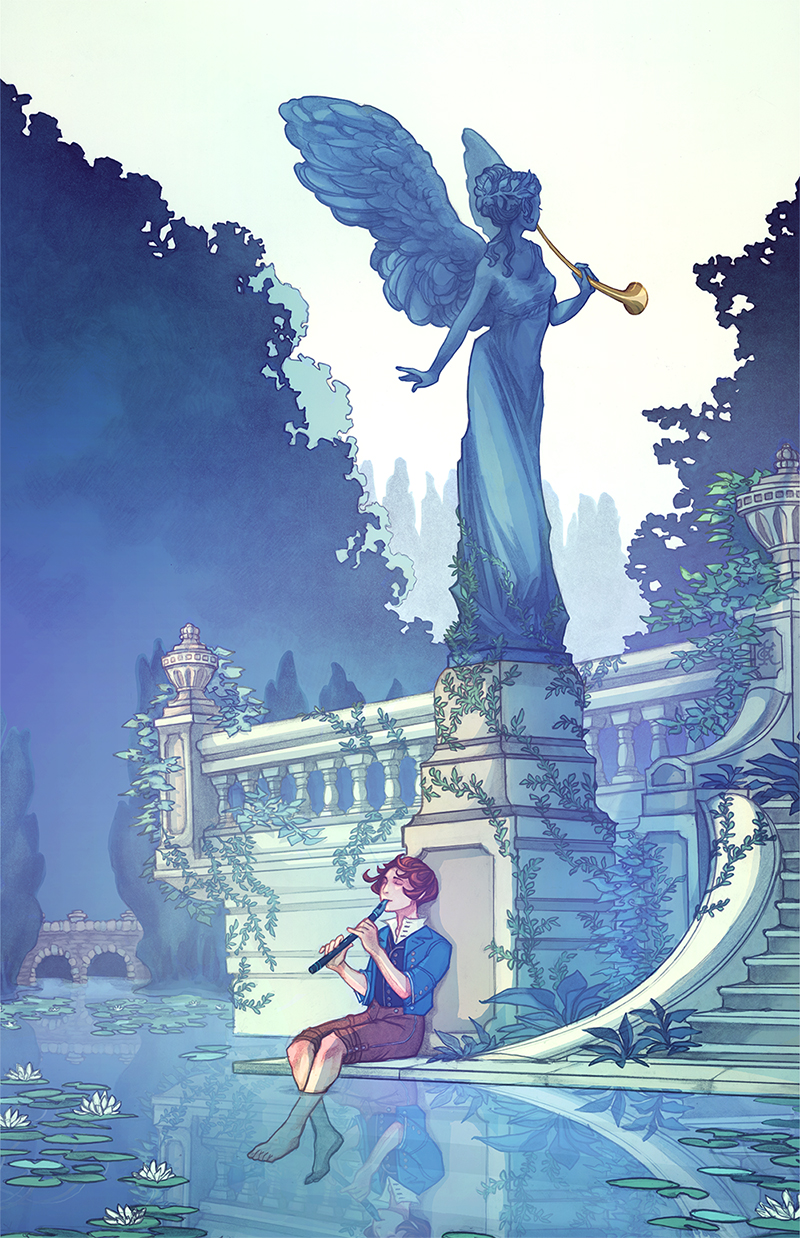 ("Sonata", by Caitlyn Kurelich)
Liminality: A Magazine of Speculative Poetry
Issue 9
Autumn 2016
Edited by Shira Lipkin and Mattie Joiner
"The Ritual" – Alex Harper
"An Angel Considers His Fallen Brother" – Lyrik Courtney
"Conditional Statements" – Margaret Wack
"Exvocation" – Elliott Freeman
"For Lonnie" – Holly Walrath
"The Pacific is Wine Pink" – Gillian Daniels
"The Wait" – Emma Crockford
"How I Lost the Sky" – Toby MacNutt
"To the Waters" – Megan Arkenberg
"Giant-Killer, 1915" – Ross Holmes
"Fusion Dream" – Laurinda Lind
"After the Forest Fire" – Evelyn Deshane
"Mother Tornado" – Melissa Frederick
Originally posted by
My dad had to go into hospital last week: I only found out the day after. It turned out to be a bad angina attack. He's on new meds. The ones he already takes thin his blood but leave him easy to bruise. We went round to see him Sunday afternoon and his hands were aubergine-purple. His pawky sense of humour remains intact. That's good. I can get used to my own ageing; my parents' frailty, not so much.
There was post waiting for me: my contributors' copies of the
Uncertainties 1
and
2
anthology (see my Facebook for a photo of a happy author wielding their books); the new re-release of Tarkovsky's
Stalker;
and a second-hand copy of Francis Brett Young's West Midlands ghost story
Cold Harbour.
M and I walked down to Catney via the canal (bamboo or similar is taking over the towpath; there were mallards sleeping on a ramshackle jetty) then back to have a late lunch at the pub up the road from my folks' house. I went to meet
fade_2_black
for drinks later and it was good up until the point where our table was requisitioned by a bunch of jerks and our pints "vanished". Then: hipsters made me miss my bus. I suppose that's an album title
Yesterday I sold a poem to the new erotic/speculative poetry zine
Twisted Moon.
It's called
A Consort For Panthalassa
and if it's not quite tentacle porn it's certainly sea-kink. (I wrote it well over a year ago and then had no clue where to send it til now.) Today I did a light bit of revising to the library/Nairns story, which is now called
To Utter Dust.
I've an idea where to send it but have to wait until the start of October.
It's good to be back.
The thunder over the city this afternoon sounded almost gastric. At five it seemed as dark as it would be by eight: I'd put the living room lights on a good while before.
Current Mood:

happy

Current Music:

Pye Corner Audio, "Stars Shine Like Eyes"
My short story "The Drowned Carnival" has been accepted by Not One Of Us. Hopefully it'll appear in October's issue (in which case that'll be three stories of mine appearing in three consecutive months - a first!) or in the spring issue next year. It's maybe a whimsical horror story, the tale of a man's love-hate relationship with a mask he finds floating in a canal, and what he sees through it. The story's three or four years old but I'm still fond of it: the basic idea went through many many permutations before I settled on this one.

In other news the Uncertainties 2 anthology isn't out for another week or so, but has already got its first review ! My own tale "Imago" has some nice things said about it: This is a powerful story, with more going on beneath it than is directly shown. That makes me happy (I may've danced around singing fuck yeah but that's another story!). Working on another tale called Before Dust Settles then onto something non-fiction.


Current Mood:

quiet

Current Music:

Front 242, "Masterhit"