shadesong
at
post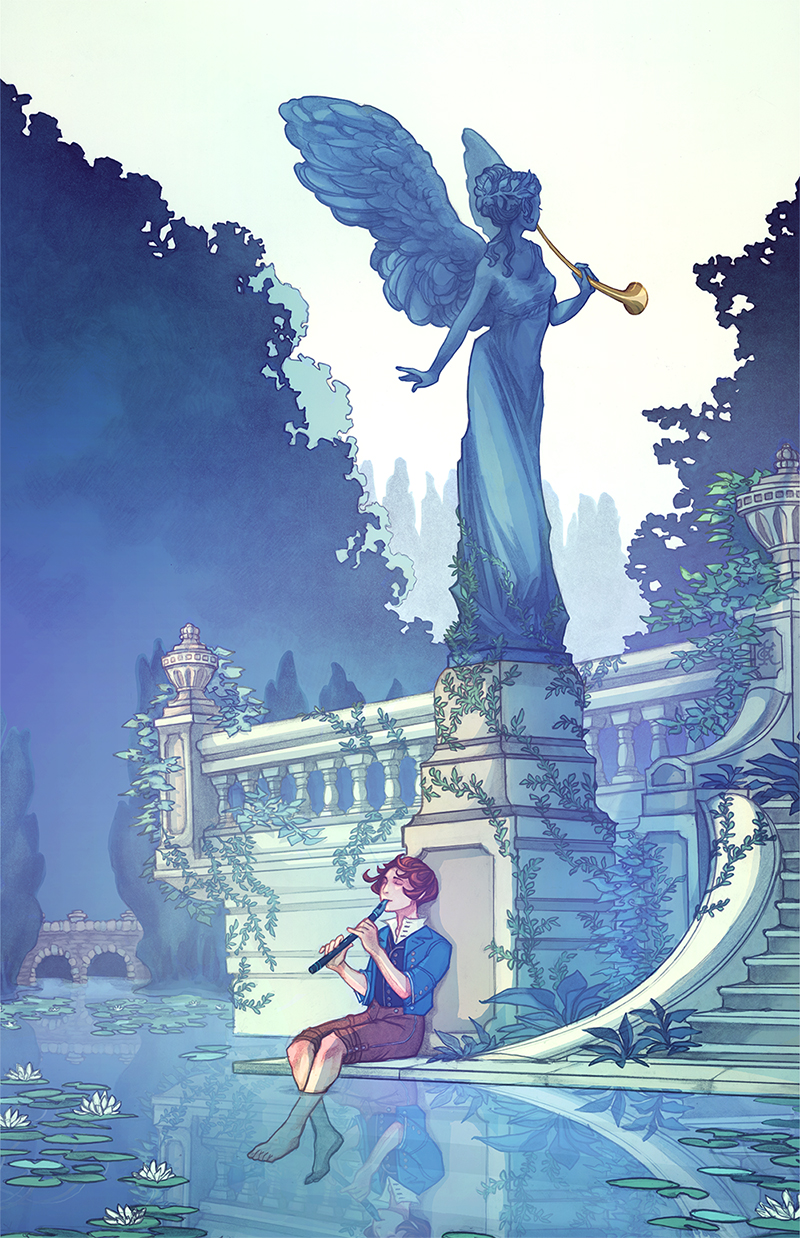 ("Sonata", by Caitlyn Kurelich)
Liminality: A Magazine of Speculative Poetry
Issue 9
Autumn 2016
Edited by Shira Lipkin and Mattie Joiner
"The Ritual" – Alex Harper
"An Angel Considers His Fallen Brother" – Lyrik Courtney
"Conditional Statements" – Margaret Wack
"Exvocation" – Elliott Freeman
"For Lonnie" – Holly Walrath
"The Pacific is Wine Pink" – Gillian Daniels
"The Wait" – Emma Crockford
"How I Lost the Sky" – Toby MacNutt
"To the Waters" – Megan Arkenberg
"Giant-Killer, 1915" – Ross Holmes
"Fusion Dream" – Laurinda Lind
"After the Forest Fire" – Evelyn Deshane
"Mother Tornado" – Melissa Frederick
Originally posted by
My dad had to go into hospital last week: I only found out the day after. It turned out to be a bad angina attack. He's on new meds. The ones he already takes thin his blood but leave him easy to bruise. We went round to see him Sunday afternoon and his hands were aubergine-purple. His pawky sense of humour remains intact. That's good. I can get used to my own ageing; my parents' frailty, not so much.
There was post waiting for me: my contributors' copies of the
Uncertainties 1
and
2
anthology (see my Facebook for a photo of a happy author wielding their books); the new re-release of Tarkovsky's
Stalker;
and a second-hand copy of Francis Brett Young's West Midlands ghost story
Cold Harbour.
M and I walked down to Catney via the canal (bamboo or similar is taking over the towpath; there were mallards sleeping on a ramshackle jetty) then back to have a late lunch at the pub up the road from my folks' house. I went to meet
fade_2_black
for drinks later and it was good up until the point where our table was requisitioned by a bunch of jerks and our pints "vanished". Then: hipsters made me miss my bus. I suppose that's an album title
Yesterday I sold a poem to the new erotic/speculative poetry zine
Twisted Moon.
It's called
A Consort For Panthalassa
and if it's not quite tentacle porn it's certainly sea-kink. (I wrote it well over a year ago and then had no clue where to send it til now.) Today I did a light bit of revising to the library/Nairns story, which is now called
To Utter Dust.
I've an idea where to send it but have to wait until the start of October.
It's good to be back.
The thunder over the city this afternoon sounded almost gastric. At five it seemed as dark as it would be by eight: I'd put the living room lights on a good while before.
Current Mood:

happy

Current Music:

Pye Corner Audio, "Stars Shine Like Eyes"
My short story "The Drowned Carnival" has been accepted by Not One Of Us. Hopefully it'll appear in October's issue (in which case that'll be three stories of mine appearing in three consecutive months - a first!) or in the spring issue next year. It's maybe a whimsical horror story, the tale of a man's love-hate relationship with a mask he finds floating in a canal, and what he sees through it. The story's three or four years old but I'm still fond of it: the basic idea went through many many permutations before I settled on this one.

In other news the Uncertainties 2 anthology isn't out for another week or so, but has already got its first review ! My own tale "Imago" has some nice things said about it: This is a powerful story, with more going on beneath it than is directly shown. That makes me happy (I may've danced around singing fuck yeah but that's another story!). Working on another tale called Before Dust Settles then onto something non-fiction.


Current Mood:

quiet

Current Music:

Front 242, "Masterhit"
cybermule
(H)! She met me off the coach and we took her son to Bristol Museum and Art Gallery. Predictably we didn't get much past the geology and biology sections. I looked at a stuffed yellowhammer and remembered the
little-bit-of-bread-and-no-cheese
call I used to hear in the fields around my parents' house; I haven't heard that in thirty years. Tarkovsky's
Stalker
was showing at the Watershed but we didn't have time to watch it. We've been dating half a year and H gave me a book on Paul Nash's paintings as an anniversary present.
We got to the sea three times in the week in Somerset and South Wales. From the beach at Clevedon I brought back what a tiny crumb of ceramic - the craquelure looks like the lines of a street map - and two fangs of seaglass in amber and "Bristol blue". On the Sunday we went to Barry Island via the limestone quarry at Rhoose Point. Around the water there are the coils of ammonites, some as big as wheels. We didn't find the adders the quarry sign promised, but there was a flock of swifts or martins dancing over the lake, burnet and cinnabar moths sunning on scabious flowers. Go to the end of the quarry and there's a rubbled beach; if you take the upland path around the quarry then a steep staircase down (the berries of cuckoo-pint lie at you feet like abandoned gems), look to your left and there's a "secret" beach, easier to walk than the one in plain sight. A buckled red bicycle lay among the stones; someone had left a fallen trunk to sit on. Coming back from the quarry we met a guy from the local Swan Rescue Centre, cradling a grey cygnet, its cartilage exposed by abandoned fishing lines: people can be thoughtless arseholes. I hope the bird heals up.
We got to Barry a while before dusk. Not many people on the beach or in the funfair a few streets back: a Ferris wheel turned bright but desultory against the darkening sky. I sat on limpet-spangled rocks and smoked and watched H swim; later I went out to paddle. I needed wet sand between my toes; I opened my arms to the twilight and the grey tide and went a bit
fey
for a few minutes. Like an anti-Canute, I guess? Whatever. It's good to feel small in the face of the sea. I need that magic. I always think I can walk out a few more yards; but I'm never so bewitched I forget that I can't swim.
Our last full day together, we rambled through Bristol. There was meant to be a punk exhibition on the Arnolfini but it seemed to be in between events, and the staff were a bit precious; so we ended up cooing over architects' models at the Architecture Centre - the model of Gatehead's Millenium Bridge looked like an Aeolian harp. We went for the inevitable second-hand book-hunt: Oxfam Books had a few nice things (bird folklore and a proof copy on a Norfolk fisherman turned painter) but was grossly overpriced. We ended up in Bloom & Curll on Colston Street. The shop's charm lies as much in its proprietor Jason as in its stock: he's like the friendly version of Bernard Black. He asked me if I minded him smoking and we ended sharing cigarettes and rose wine. H came in from where she'd been reading Iain Sinclair on a neighbouring doorstep. Jason had set up a chess problem with a sign saying he'd pay any customer a tenner if they could solve it; H won. (It was pretty much the money that we'd spent in the shop - the haul included a book on Green Men, one on Celtic fairy tales, Walden's
Thoreau,
a Colette omnibus, and Sean O' Brien's
The Drowned Book.
I wish I'd discovered his poems earlier! - he writes water well.The subject line comes from him.) They played a quick game then we baled to drink our ill-gotten gains (books to chess to wheat beer - there's some alchemy there, perhaps) in a metal pub called The Gryphon.
I've tried and failed to finish Stapledon's
Star Maker
this last week. I took the coach back to Brum grazing the pages of
The Pale Brown Thing
by Fritz Leiber: the early novella version of
Our Lady of Darkness,
now available in a
tasty new edition
from Swan River Press (John H was good enough to give me a spare copy).
It feels strange to be back in a city where most people don't talk with burred voices.
Oh - I meant to post about this last week! I finally received the 2014 Dwarf Star Award plaque that I won for my poem
And Deeper Than Did Ever Plummet Sound
. Truth be told I kept forgetting I was due the thing. Have a blurry picture of that for your pains:
I'm not long back from a week in the West Country with
Current Mood:

okay/pining a bit

Current Music:

David Mitchell ranting
Uncertainties: Volume II,
coming out in August: here are
more details.
"Imago" itself is a pretty old story of mine, dating back to about '99 or 2000 (it's had a good polishing since then. I can't say for sure. I can remember what sparked it: seeing Bauhaus live in the mid-90s. It was during the song
Hollow Hills
, I think; anyway the set during the song included twenty light bulbs lowered from the ceiling. Peter Murphy moved among them, touching bulbs: it looked like a ritual. That got distorted a bit and ended up in a ruined house rather than a Manchester rock club.
M and I found a swallowtailed moth on the path running out of the estate Friday afternoon: ghost-gold with reddish stripes, an easy two-inch wingspan. He gently nudged it off the path with his finger so people wouldn't trample it. I saw JH that night: we talked about Jocelyn Brooke's dystopian novella
The Image of a Drawn Sword,
the current state of politics (I'm taking comfort from as much satire as I can get now), publishing (as I'm aching to try and get a collection of my stuff off the ground); probably a score of other things that I can't recall right now. Last night, a long-overdue date with
cybermule
: we traded stones from beaches (Seasalter to Chesil Beach); I gave her a copy of W. G. Hoskins'
The Making of the English Landscape.
I'm reading Vernon Watkins'
New Selected Poems
and Jeff VanderMeer's
Southern Reach Trilogy. Poems
doesn't have the whole of Watkins'
Ballad of the Mari Lwyd,
which is a crying shame. But he's great with stones and shells and birdlife, also Time:
Time built your room three-walled
Where Fear, a nurseling, crawled
But at the fourth wall I
Bring the starred sky
And the scented world.
It's in the mid-twenties out there. I daren't lean on the balcony wall in case I make a barbecue of my forearms.
I've sat on this one a little longer, but I can now announce my second story sale of the summer! My weird tale "Imago" will appear in the Swan River Press anthology
Current Mood:

happy

Current Music:

Broadcast, "Where Youth and Laughter Go"
"The Men Cast By Shadows" has been accepted by The Alchemy Press for their tribute anthology to Joel Lane,
Something Remains.
It's a collection of stories - collaborations - based on unfinished fragments and notes left by Joel at the time of his death. It's a very important book to me, and this is the second (and I would say final) collaboration between he and I. The first was a canal-set ghost story,
Ashes In The Water.
It got two reprints - not something I'm used to. I'm still immensely proud of it. "Men Cast By..." is a story of love and art gone wrong, perhaps more bitter and funereal than I've written before. It took longer to find a title than to write, and it was only after I submitted it that I realised the title was probably shaped by that of Broadcast's first studio album,
The Noise Made By People.
For a full ToC and more information, go
here.
My story
Current Mood:

pensive

Current Music:

Nico, "You Forget To Answer"


M and I went down to Kent last weekend for the christening of his nephew, who is I think less than a year old? Anyway he (the nephew, not M) seems sweet enough for a tiny human - I'm not great with them at that age - all sepia hair and eyes that are greenish-blue but look hazel in certain lights. I gurned at and nosebooped him and he seemed to enjoy that. Lots of people over from Germany and America and various parts of the UK for it. I got a bit overwhelmed by that at times but mostly survived (I'm not great in crowds; they can give me panic attacks at the worst). Friday we travelled down to the coast via Faversham and a village called Seasalter. I was there long enough to smoke seated on a breakwater, gather some shells and a knuckle of black beach-flint. I threw some pebbles into the waves: a warm grey-green. There's an old-style K6 phone box there by the village shop. I don't know why someone had painted it black over the usual scarlet. Maybe I'll write an explanation one day. We ended up in Whitstable, where Peter Cushing lived; the local Wetherspoons is named for him. It's got a lovely Art Deco facade; I didn't have time to explore the interior. But I bought books. A couple of Christies, an omnibus of Vance's Dying Earth novels, Jeff VanderMeer's Acceptance (I'll have to reread the first two Southern Reach novels; no hardship), novels by Olaf Stapledon and Fred Hoyle. We got home at midnight this morning. The days down South were humid and the cool rainladen Midlands breeze felt like a welcome.
The local carrion crows have been dropping bones on the balcony again. I'm guessing these come from takeaway chicken. Unless they've picked a vegetarian as their carrion god. It's not unusual to look up from my cigarette and find a crow watching me. I always try and greet them. Last week I saw three of them perched on the neighbouring block dividing a slice of toast between them.
Current Mood:

sleepy

Current Music:

The Bottyjellys. "Peter Cushing Lives In Whitstable"
So: trying to enjoy life as best as I can in the face of all this. Highlights in the gloom: Balti out with my writers' group last night. (In deference to recurring heartburn I chose a mild spinach curry. We drank after in the Spotted Dog, which is one of the models for the Orion Arms.) A weekend in the West Country with
cybermule
. We watched
Penda's Fen
- it's still the most Machenesque film I've ever seen, and I want to write about it in depth one day - and caught British Sea Power live in Gloucester. (Pregig pub had the face of Pan in its tiled facade. We had to go in.) BSP were fab: a lot of brand-new songs. You couldn't always tell what was viola and what was guitar. Good support from Darren Hayman, with a folkish project on the "Thankful Villages": the villages where all the soldiers came back from the Great War.
Read/reading/about to read: W. G. Hoskins'
The Making of the British Landscape,
Colette's
The Vagabond,
Richard Mabey's
The Common Ground, Mr Punch
by Phillip John Stead. Not writing anything at the moment; I have to shake off a feeling it's pointless frivolity.
A week after the Referendum, I still feel numbed by the result. A mixture of despair, rage, and fear of what the future will bring. I don't want to live in a xenophobic backwater. Racists seem to think their time has come; the political parties are ripping themselves apart. Half my country's doomed all of us to isolationism, perpetual austerity; shrinking circles. I can't accept this. I want a second referendum. I want to fight, somehow, do something - I don't know what to do. Holding on to anger seems better than giving in, but I don't want my life to be fuelled by this, every moment, every day.
Current Mood:

despondent

Current Music:

Broadcast, "Illumination"
shadesong
at
The summer issue of Liminality is here!
Liminality: A Magazine of Speculative Poetry
Issue #8
Summer 2016
Editorial – Shira Lipkin
"Translations of a Runestone Found in Minnesota" – Amelia Gorman
"A priest, church windows, & divination" – Evelyn Deshane
"Saint of the Gracious Smile, your lips are cruel" – Kathrin Köhler
"Exposing Tricks" – Chloe N. Clark
"8 Ways Any Girl Can Become More Attractive, According to Science" – Margaret Wack
"Flesh" – Subashini Navanatram
"Jellyfish/Out of Water" – A.J. Odasso
"Wattle Skinned" – Hester J. Rook
"Yoga Chip" – Rohinton Daruwala
"WERE-" – Naru Dames Sundar
"Million-Year Elegies – Hallucigenia" – Ada Hoffmann
"Just So Story (The Four Faces of Luck)" – E.P. Beaumont
"Hexagram 64: Taste the Salt" – M.C. Childs
Originally posted by
Is this the new Damian Hirst?)The chasm frames the spire of the fountain in Chamberlain Square. Stand back a way and you can hide that behind the dome of the Hall of Memory.

Time's running out. So I need to carry out my own little act of conservation fast. A small tale, probably called An Uttered Dust. It's a Brutalist ghost story, I suppose; also the first in a loose cycle about the Nairns, who are curators and guardians of human memory and the perception of time. I'm working on this alongside A Flute In The Factories, the Pan story. Someone asked me a while back about writing a short zero-budget horror film with him but there's no deadline with that. What's everybody else working on?
The demolition crews have bisected the Central Library. M and I walked up there after a pub lunch today. We looked at it from the new Library, which didn't seem right at all. He took a picture of the wreck and it's on my Facebook if you know me there. (Someone there commented
Current Music:

Broadcast, "The Book Lovers"